We are now doing our Fall/Winter Hours:
Friday 12-8pm
Saturday 12-8pm
Sunday 12-7pm
---
Looking for the perfect holiday stocking-stuffer?
Give the gift that everyone will love – A gift certificate from Balthazar's Ice Shack!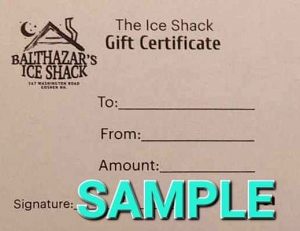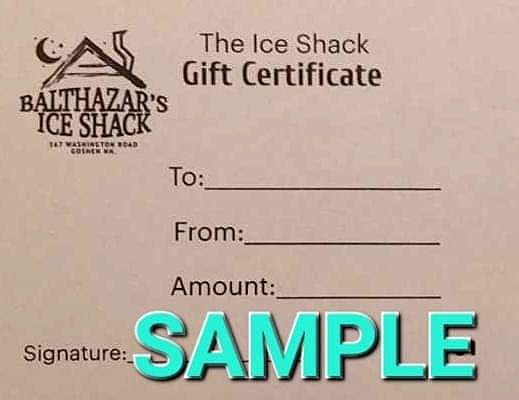 ---
Hot Food – Take Out Menu/Call Ahead: 603-309-7795

Clam Cakes – $6.00 w/ Tartar sauce
Slider Plate $10.50 – 2 burger sliders w/ cheese, bacon, special sauce, pickle spear, chips, and soda (add fries for $1.00) (Special sauce or Jalapeno sauce)
Hot Dog $3.25- onions, ketchup, mustard, relish
Chili Dog $5.50
Bowl of Chili – $5.00
Chili Cheese Fries Plate $10.50- chili, cheese, fries & drink
Bowl of Chili Cheese Fries – $6.00
Nachos with Cheese sauce and salsa $5.00   add chili $1.50
Quesadillas $9.00 – 4 pieces served with sour cream and salsa. Choice of BBQ or Buffalo Chicken or Ham & Cheese.
Cheese Quesadilla $7.75
BBQ Chicken Quesadillas $7.75 – 4 pieces w/ salsa & sour cream
Chicken Strip Plate $11.75 – w/ fries & drink
Chicken Drum Plate $10.50 – 6 pieces chicken, fries & drink
Chicken Dippers – $5.00
Banana Fritters – $6.00 w/ powdered sugar, cinnamon & sugar
Poutine $6.00 – french fries & cheese curds topped with brown gravy
Cup of Fries $2.50
---

Ice Cream
Note: Flavors may vary due to availability.
Ice Cream Waffle Cone / Cups:
Tot 3/4's of a Scoop $2.50
Kiddie Cone 1 Scoop. $3.50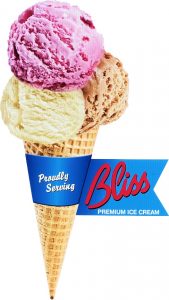 Regular 2 Scoops. $5.50
Large 3 Scoops. $6.25
Ice Cream Cookie Sandwich $4.50

The Loki Special – $5.50 – A super big scoop of ice cream with all the candy toppings we have!
Non-Dairy – $4.50

NSA (no sugar added) flavor: Caramel Pecan
Caramel ice cream, roasted pecans, and a caramel swirl, with no sugar added.

*When caramel Pecan NSA is out of stock we have Coffee NSA
Sundaes – Cup or Cone $6.50 add nuts .80
Snacks
Chips $0.50
Chips and Drink $1.50
Shaved Ice $3.50
Tigers Blood (watermelon, strawberry & a hint of coconut)
Strawberry,
Root Beer
Pina Colada
Grape
Cherry/Watermelon
Blue Raspberry
Banana/Lemon-lime
Drinks And Things
All Soda Drinks $1.00
Bottled Water, Soda, Poland Spring Sparkling Water $1.00
Frappes – 2 scoops your choice of ice cream $5.95
Ice Cream Float – 2 scoops of vanilla choice of soda $5.50
---
Winter Menu
Fresh home-made soups & chowders
Hot chocolate, coffee & soda
We also have yummy hotdogs!
Come and warm up with us! 
---